UPFEST 2017 STREET ARTISTS REACH NEW HEIGHTS WITH PROLIFT ACCESS
Prolift Access were back to help the world's top graffiti and street artists give Bristol a stunning makeover at Upfest 2017 this weekend.
More than 300 artists visited the city to create their masterpieces on the sides of buildings and venues across Bedminster and Southville.
Prolift's Bristol depot supplied 10 of their Skyjack diesel scissor lifts for Upfest, giving the artists a safe work platform and enabling them to comfortably reach heights of up to 50ft.
Prolift also supplied a JLG 800AJ – an articulating diesel boom lift with a maximum platform height of 80ft – to help Brazilian artist Eduardo Kobra create a spectacular technicolour portrait of John Lennon on the wall of the Tobacco Factory.
In addition to supplying machines, Prolift Access also provided ground protection mats and laid on IPAF boom and scissor lift operator training courses for Upfest officials.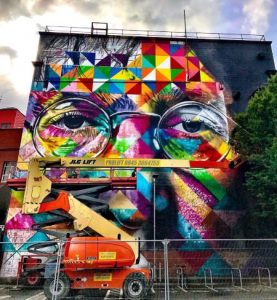 Prolift's JLG 800AJ 80ft boom helped Brazilian artist Eduardo Cobra create this giant John Lennon portrait during Upfest 2017 in Bristol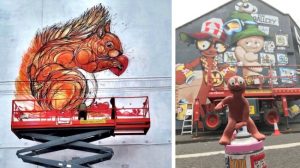 Among the many colourful creations at Upfest 2017 was a celebration of the Aardman character Morph by Bristol artist Cheo