TOOL LANYARDS TO ELIMINATE DANGER OF DROPPING TOOLS WHILE WORKING AT HEIGHT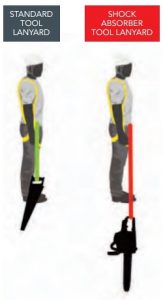 Ridgegear's tool lanyards can help you prevent dropping tools while working at height
Tool lanyards are an essential height safety product designed to eliminate injuries from falling tools – a significant cause of fatalities in the workplace.
Ridgegear's full range of high-quality tool lanyards are available to buy now from the Prolift Access e-shop on our website.
These UK-made lanyards come in three different ranges with a variety of tool tethering options, as well as a loop for karabiner connection to your harness.
Standard tool lanyards are made from high-quality flat webbing to provide basic tool restraint for small tools weighing up to 3kg.
The elastic tool lanyard range is manufactured from webbing with added elastication for ease of movement and basic energy-absorbing properties.
Ridgegear also have a shock absorber tool lanyard range, which are made from either advanced Kinetic webbing or incorporating a neat shock pack. These shock absorber lanyards are the pinnacle of tool height safety. In the event of dropping a heavy tool, they significantly minimise the risk of the user being pulled off a ladder or platform by drastically reducing the peak loads.