PROLIFT ACCESS OPEN HINKLEY POINT C PROJECT DESK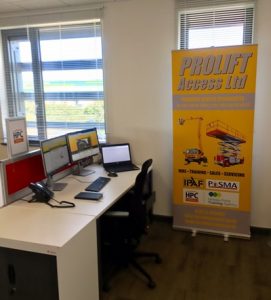 The Prolift Access Hinkley Point C project desk at the Somerset Energy Innovation Centre
Prolift Access has its new Hinkley Point C project desk up and running.
Based at the Somerset Energy Innovation Centre at Bridgwater, our project desk is conveniently located right on the doorstep of the Hinkley C development.
Prolift is a fully registered supplier with the Hinkley Supply Chain and can provide contractors with all their powered access requirements while working at Hinkley Point.
We have an extensive range of boom and scissor lifts, and other specialist powered access equipment, which can be delivered quickly and reliably from our main depot in Wellington just down the M5.
Prolift Access is also members of the Hinkley Point Training Agency and can provide a full range of IPAF training for boom or scissor lift operators as well as PASMA training for access tower users.