UNUSUAL DISCOVERY DURING BOOM LIFT LOLER EXAMINATION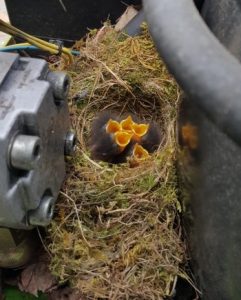 A family of birds found nesting in a customer's boom lift this week
Prolift Access engineers are experts in fault-finding and repair when it comes to powered access equipment, but some jobs aren't as straight forward as you'd expect.
During a visit to a customer's site for a routine LOLER examination and service on a trailer-mounted boom lift this week, our mobile engineer Barry Green made a particularly unusual discovery.
A family of birds had nested in the Niftylift 120T and, judging by Barry's photo, the babies seemed more interested in getting their breakfast than a six-monthly LOLER.
After liaising with the customer, it was decided to delay the service and keep the machine out of action until the young birds have flown the nest.
Our standard agreements over 1-3 years include all LOLER examinations, services, reminders, certificates and documentation, as well as no callout fees on breakdowns. We have depots located across the South West and can provide flexible agreements tailored to suit your requirements.