BUY USED BOOM OR SCISSOR LIFTS FRESH OUT OF REFURBISHMENT

Our 2002 JLG 450AJ articulating diesel boom lift is available to buy now
Buying a refurbished boom or scissor lift can be a cost-effective alternative to buying new powered access machinery. At Prolift Access, we can give used machines a new lease of life with refurbishments and resprays prior to sale.
Pictured are two of our most recent refurbishments, a 2002 JLG 450AJ diesel boom lift and a 2005 Genie GS-1932 electric scissor which are both looking as good as new.
The JLG 450AJ is a 45ft articulating boom lift which has been a reliable member of our hire fleet. It has been professionally maintained and fully serviced under Prolift's company service plan and is available to view or buy now for £14,950 + VAT.
The GS-1932 has already been snapped up but is one of several Genie 19ft electric scissors available for refurbishment prior to sale if required. We also have 2004 and 2006 models available, with prices starting at £4,555 + VAT.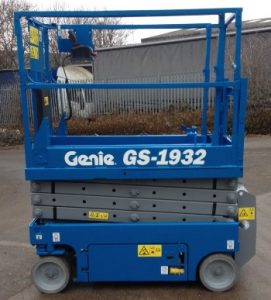 One of our Genie GS-1932 electric scissor lifts which underwent a full refurbishment prior to sale