Tree trimmer electrocuted while working at height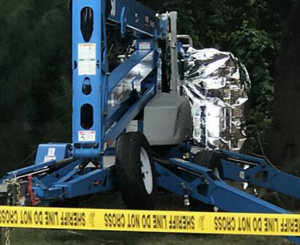 As seen in Vertikal, it was reported a man was electrocuted on Friday while trimming trees from a trailer lift in Cocoa, due east of Orlando Florida. The man was using a Genie TZ50 at the Cypress Strand mobile home park when he inadvertently touched an overhead power line with his chain saw. The machine appeared to have been set up under some substantial power lines for the work to be carried out. Sadly, the incident was fatal and shows the need for appropriate training.
Please click here to view our training courses.