Congratulations to Mr and Mrs Waite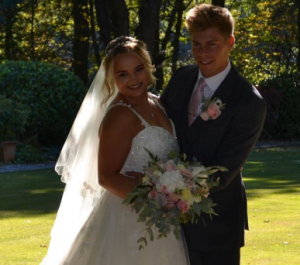 Congratulations to Elliott Waite (Engineer) and his wife Charlotte who recently got married in Leeds. They had their reception at the Woodland Hotel.
Did you know, Elliott is one of the youngest engineers in the country to get his CAP licence? He has just graduated from completing his HNC in Electrical engineering.
Elliott was runner up in the Apprentice of the Year in year 2 in the national competition, he won the  Apprentice of the Year national competition in year 3 and was presented his prize by Lewis Hamilton's brother, Nicolas Hamilton.